Top 10 Moments in Kastles History: #7
July 06, 2017
TOP 10 MOMENTS IN KASTLES HISTORY
#7: Martina Hingis Secures Fifth WTT Title in Six Years, playing singles, doubles and mixed

Kastles Stalwart Bobby Reynolds Says Goodbye


To commemorate the Kastles 10th-anniversary season, we've reviewed the team's most memorable events, episodes, incidents, and milestones over the years, and selected the 10 Greatest Moments in Kastles History. We hope this vibrant look back inspires you to look forward to another historic season!

On Sunday, July 27, 2014, at the Mediacom Stadium at Cooper Tennis Complex in Springfield, Missouri, the Washington Kastles defeated the Springfield Lasers, 25-13, to capture the Kastles fifth Mylan World TeamTennis championship in six years and fourth in a row. The grand finale to the season prompted a mix of emotions from fans, as well as the players. Kastle's star Martina Hingis shined, winning all three singles, doubles, and mixed sets, almost singlehandedly turning the match into a route and ultimately securing the milestone championship, while long-time Kastles' stalwart Bobby Reynolds won the final two sets of his WTT career and ended his pro tennis career that evening going into retirement.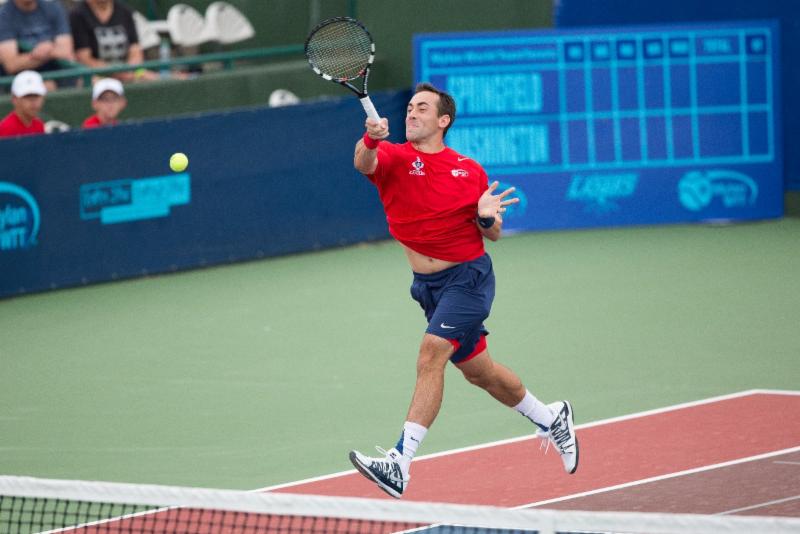 It was a glorious farewell for Reynolds.

The veteran Kastle opened the championship match playing singles against a longtime rival, Michael Russell. The Lasers' star defeated Reynolds 5-1 and 5-3 during their two regular-season meetings, so it was a great but very challenging opportunity for Reynolds to end his career on a high note. Prior to the set, Reynolds changed his strategy from their previous match-ups during the season deciding to keep the ralleys long and hitting high balls to Russell's backhand side. But again, Russell started the stronger of the two players by breaking Reynolds to go up 2-1. On this occasion Reynolds rallied, however, as he had so often in the five years he was a Kastle, breaking back for 2-2 on a 3-all deciding point. Perhaps that point relieved some of the pressure on Reynolds, because he found the range on his forehands and first serves to hold at love in each of his next two service games. But Russell held twice, too, to force a tiebreaker at 4-all.

From there, the top-two WTT men's singles players split the first four points, before Reynolds ultimately took control of the crucial tiebreaker. He blasted a service winner for 3-2, then stepped into a down-the-line backhand that Russell couldn't handle to earn three set points. The Laser managed to save one set point, but not the second, misfiring on the 15th shot of an extended rally to send Reynolds home a winner in the final singles set of his career.


Martina Hingis then kicked it into high gear.

Springfield's Olga Govortsova briefly gave her team a 6-5 lead when she jumped ahead of Hingis 2-0 in women's singles before coach Murphy Jensen called a time-out. The Kastle's Hingis responded by finding another gear and running off five-straight games to seal the set and firmly quiet the Springfield crowd. It was an impressive start that night for Hingis, who would go on to win all three singles, doubles, and mixed sets, and clinch Washington's fifth WTT title in its six year history!

After Hingis finished off singles play for the night, Reynolds took center court for the last time as a Kastle, as he and Leander Paes squared off against Russell and Ross Hutchins in the first doubles set of the match. The match turned out to be a satisfying victory lap for the Kastles' "Iron Man."

Reynolds and Paes got off to a great start, going up 3-zip in flash, and taking a 13-6 overall lead. Finally, Lasers fans had something to cheer about when Russell held for 1-3, but Reynolds was unbeatable that night. He responded with a rapid love hold, for 4-1, in what would go down as his last service game ever. And though the Lasers managed to prolong the contest an extra game by holding serve one more time, the combination of Paes's serve and Reynolds's deft net play delivered the final blow to consolidate the set and take 15-8 lead over Springfield by halftime.

The remaining sets were closed out, largely, without drama. Martina Hingis and Anastasia Rodionova trounced Liga Dekmeijere and Olga Govortsova in women's doubles, 5-1. Hingis followed this win up with another, this time partnering with Paes in mixed doubles. In a significantly more competitive set, they outhit Hutchins and Govortsova, 5-4, to shut out Springfield and clinch the Kastles' four-peat, 25-13.




And then the awards flowed for the Kastles.

The Kastles hoisted the King Trophy. Hingis was named the WTT Finals MVP (after winning 15 of the 22 games that she played). And of course, the spotlight also fell on Reynolds, as Lasers and Kastles fans alike chanted, "Bobby, Bobby, Bobby!"

Reynolds's admiration was well deserved. Without missing a match since being picked #1 overall in the 2010 WTT Draft, he gave maximum effort in all 78 of his appearances for Washington. The Kastles went 66-12 with Reynolds, who helped the franchise go from a tennis team to a sports dynasty.